Home
» History of Building
History of Building

The building, that is nowadays occupied by the Conservatory of music of Como, was originally a hospital. It was built in the second half of the 15th Century when it was decided to put together all the small hospitals of the town in a single Major Hospital.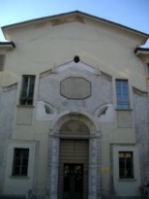 It was located just outside the town wall, in the old
Borgo di Porta Nuova
(now
Via Cadorna
) where there were already the
Ospedale dei Poveri
of Saint Anne. The first structure was a "T" shaped plant with three infirmaries, one for each wing, and two churches. Around the end of the 18th Century, following an increase of quality and quantity of the assistance, another infirmary was added to the structure, as well as it started a period of renovation of each wing and enlargement of the hospital; it is dated 1789 a
plan of the building
that shows the new cross shape of the hospital.
It was still in the 19th Century that several maintenance interventions and small fundamental additions were realized. It was in this period that a newer church was built where today it has been placed the auditorium. The hospital was then decentralized in 1907 [see image down the page] and moved to a newer area in
Camerlata
, and the building was designated to the Fire brigades until the 1960.
Between 1971 and 1973 the city of Como recovered and renovated the building after a period of degradation where some parts of the structure collapsed. Together, it was becoming real the idea of dedicating the new building to musical education. In 1982, the Conservatory of Milan opened the branch in Como until 1996 when The Conservatory of Como started being independent.


The building in 1907

Como plan, Mid-Nineteenth-Century. In box: the Conservatorio overlapped to Ospedale Sant'Anna: 1. Auditorium; 2. The Cloister; 3. Main entrance and Organ Hall


The Cloister (end of 15th century - begin of 16th century), March 1966.


Written by Marco Rossi
Iconographic research by Domenico Innominato
---
Copyright © Conservatorio di Como